For the annual Winterwelvaart event of 2009 Floris Maathuis created a spectacular opening act on the water together with Marco Bonissimo and Diederik Stevens.
The Winterwelvaart is a multi-day annual winter event with a variety of activities that reflect on the unique and historical link that the city and province of Groningen have with the maritime shipping industry. www.winterwelvaart.nl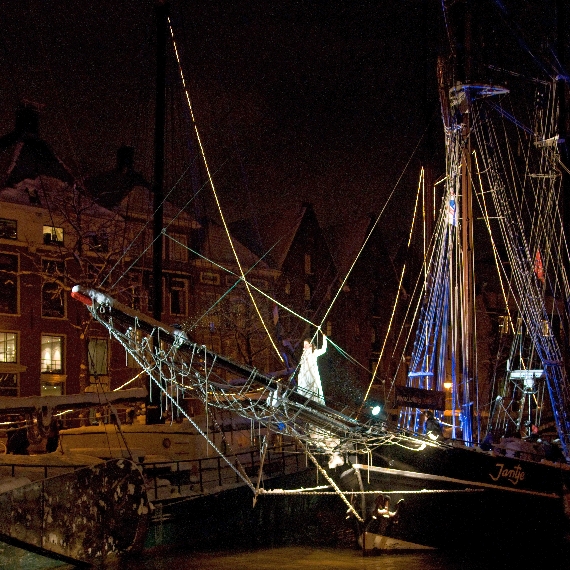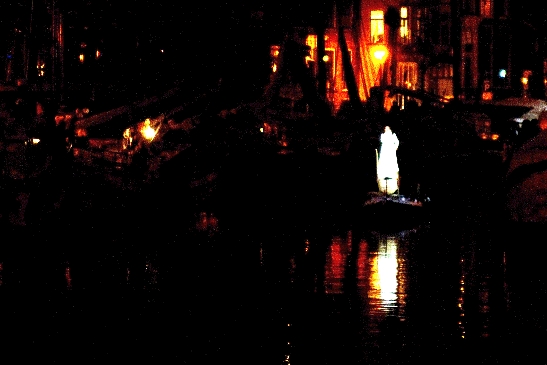 A thin figure floats across the water from afar, a winter angel, an opera singer in white. She slowly approaches the audience. Suddenly loud music plays and a red glow appears from under the bridge. Two boats emerge with monkfish and fire flares coming from underneath. They chase the winter angel and hold a spectacular fire show on the dock. Meanwhile, the winter angel returns to the bowsprit of the beautifully illuminated two-masted ketch, the 'Jantje'. With a huge cloud of smoke and a full-hearted arrival hymn, she chases the devils away. After anchorage, she goes ashore and hands a ships' horn to the mayor, who thereby opens the Winterwelvaart event. All of the ships in the harbor honk their horns.