The manifestation 'Do the RoofTopHop', initiated by Pavlov Medialab, took place over interconnected roofs in the city center of Groningen. Artist groups from New York, Berlin and London worked simultaneously on rooftop landscapes through music, projected animations and interactive installations. The hidden domain of the roofs was unlocked by these projects creating a new public space for the 'Creative City', an innovative playing field for Groningen.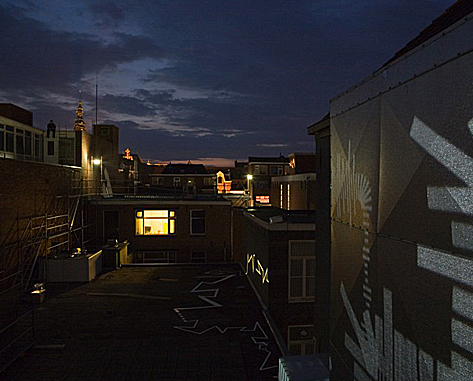 On the rooftop of the Puddingfabriek (Pudding Factory), the results of the 'City on a Roof' construction workshop were projected from a watchtower: prototypes of roof development of which the construction teams had been working on that week.
On the roof of the Cascade complex ZZ, the moving screens of Nika Offenbac's CTRL Labs (NY) and the samples of DJ Foefur were played daily from 1:00 am to 6:00 pm.
On the rooftops of the Vismarkt from 9.30 pm to midnight every evening, the audience could take an adventurous tour along the dancing light installation by Mo Stoebe and Sophie Clements (London) accompanied by a soundscape of the 'Liberated Piano' by composer Renger Koning.
At the Zuiderdiep, a musical composition by composer Gerard Ammerlaan in collaboration with Stephane Leonard (Berlin) was performed over various rooftops. A brass band, a soprano and laptops were mixed with the sounds of the city.
Floris Maathuis was the production manager and technical producer of 'Do the Rooftophop'.